NSSA SOUTHWEST CONFERENCE
EXPLORER EVENT #6 and #7
OCEANSIDE SOUTH JETTY
FEBRUARY 11, 2012
CONDITIONS:  OVERHEAD WINDSWEPT WALLS AND PEAKS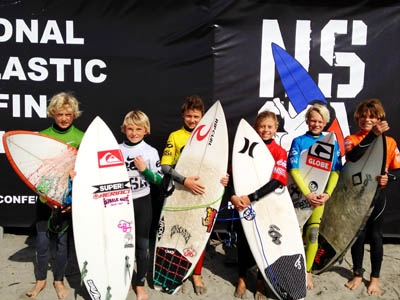 SUPER GROM SHREDDERS!
l-r: Ethan Mudge, Zach McCormick, Crosby Colapinto, Nick Marshall, Dagan Stagg, Kade Matson
OSIDE EXPLORER BIG WINNERS!
l-r: Colin Richardson, Tyler Gunter, Blake Dresner
(Huntington Beach, CA – February 15, 2012) — The Southwest Conference Explorer resumed the 2011-12 season with a doubleheader weekend at Oceanside South Jetty on February 11-12. A solid combination of northwest ground and wind swell delivered overhead, chunky lefts and rights with long steep walls providing decent scoring potential for the competitors. Heaps of high scores swamped the scoreboard including Tyler Gunter's excellent 17.0 two-wave combined total in the event #7's Menehuene final. Along with Tyler, red-hot performances were put forth by Colin Richardson, Nick Marshall, Rick Takahashi, Mike Gillard and Rick "Rockin Fig" Fignetti. Female rising star Frankie Harrer notched up two more victories to her resume bringing her record-smashing season wins total to 33!
RICK TAKAHASHI PULLS OFF HIS SEVENTH STRAIGHT DOUBLE WIN!
HIGHLIGHTS OF EXPLORER DOUBLEHEADER WEEKEND
In the Men's division, Taylor Mathiesen claimed his first victory of the season in event #6. The following day, Christopher Murnane triumphed in the Men's for his fourth victory of the season in the division.
In the Juniors, it was the Colin Richardson show. The 16-year-old from Encinitas enjoyed a breakout weekend dominating both finals and jumping out to a substantial lead in the Juniors ratings.
The Boys victories were split between Jake Marshall who destroyed event #6's final and Blake Dresner who clinched his first win of the year.
In the Menehuene's Ryland Rubens took his fourth win of the season in the division in a photo finish final over Super Grom phenom Nick Marshall. Sunday's Menehuene final was one of the best surfed heats of the weekend where Tyler Gunter outdid himself putting on a sensational performance with his top two waves scoring a 9.0 and 8.0.
Nick Marshall was crushing it in all of his Super Grom and Menehuene heats. He took double wins in the Super Groms for his fifth victory of the season in the division. Nick has also been ruling the Open Mini Groms, sitting on top of the ratings with five wins in that division.
In the female divisions, Frankie Harrer won the Women's final in event #6 and Girls final in event #7 collecting her 32nd and 33rdvictories. Avalon Johnson surfed strong in the event #6 Girls final clinching her first win in the division this season. Kulia Doherty pulled off a commanding victory in the Women's final in event #7.
Rick Takahashi's year has been nothing short of spectacular. This Master/Senior shredder can't be stopped sealing his seventh straight double victory. Can you say "competitive excellence!"
Iron Man Mike Gillard was in his element in the strong, challenging overhead conditions laying down the hammer in the Super Seniors and Longboard divisions this weekend nailing four victories.
In the Duke division, Rick "Rockin Fig" Fignetti kept his impressive streak alive winning seven straight and still undefeated this season!
The NSSA Southwest Conference is proud to have support from Nike 6.0, Huntington Surf and Sport, Java Point, Surfing Magazine, Sex Wax, Channel Islands, Vitaminwater, Sugar Shack and Laguna College of Art + Design.
THE SCOREBOARD
RESULTS
SOUTHWEST CONFERENCE EXPLORER EVENT #6
OCEANSIDE SOUTH JETTY

EXPLORER DIVISIONS
EXPLORER MENS
1. Taylor Mathiesen-Carlsbad 12.0
2. Jacob Szekely-La Jolla 10.0
3. Brandon Manguso-Carlsbad 9.3
4. Taylor McDole-Huntington Beach 8.0
5. Remy Jaboori-San Diego 7.0
6. Todd Simonsen-San Marcos 2.3
EXPLORER JUNIORS
1. Colin Richardson-Encinitas 11.5
2. Cody Sherman-San Diego 9.7
3. Lucas Taub-Dana Point 8.5
4. Christopher Murnane-Carlsbad 8.0
5. Spencer Bingham-San Diego 6.5
6. Tad McCardell-San Diego 4.0
EXPLORER BOYS
1. Jake Marshall-Encinitas 14.5
2. Blake Dresner-Encinitas 8.5
3. Kellar Moore-Carlsbad 7.3
4. Kody Clemens-Encinitas 6.6
5. Conner MacLeod-Laguna Niguel 5.9
6. Jade Morgan-Cardiff 5.5
EXPLORER MENEHUENE
1. Ryland Rubens-Pacific Beach 12.5
2. Nick Marshall-Encinitas 12.0
3. Tyler Gunter-Newport Beach 11.5
4. Crosby Colapinto-San Clemente 10.0
5. Brett Naudin-Encinitas 4.0
6. Zach McCormick-Solana Beach 3.6
EXPLORER SUPER GROMS
1. Nick Marshall-Encinitas 13.5
2. Ethan Mudge-Capo Beach 10.0
3. Crosby Colapinto-San Clemente 7.7
4. Kade Matson-San Clemente 6.0
5. Zach McCormick-Solana Beach 5.0
6. Dagan Stagg-Carlsbad 4.2
EXPLORER WOMENS
1. Frankie Harrer-Malibu 10.5
2. Kulia Doherty-Rancho Santa Fe 8.0
3. Kylie Loveland-Carlsbad 7.0
4. Tiare Thompson-La Jolla 6.1
5. Avalon Johnson-Carlsbad 5.8
6. Malia Osterkamp-San Clemente 3.5
EXPLORER GIRLS
1. Avalon Johnson-Carlsbad 10.0
2. Frankie Harrer-Malibu 9.25
3. Kylie Loveland-Carlsbad 7.6
4. Tiare Thompson-La Jolla 6.3
5. Jada Galland-Rancho Santa Fe 4.8
6. Julianne Hernandez-Costa Mesa 4.0
EXPLORER MASTERS
1. Rick Takahashi-San Diego
2. Eric Sorensen-Long Beach
3. Ed Custodio-San Diego
4. Lee Toresdahl-Huntington Beach
5. Bob Higgins-San Diego
6. Jorge Barba-Burbank
EXPLORER SENIORS
1. Rick Takahashi-San Diego 14.5
2. Ed Custodio-San Diego 8.5
3. Eric Sorensen-Long Beach 8.0
4. Ed Santos-Oceanside 7.0
5. Biagio Mancini-Huntington Beach 3.0
6. Jorge Barba-Burbank 2.0
EXPLORER SUPER SENIORS
1. Mike Gillard-Imperial Beach 16.0
2. Rick Fignetti-Huntington Beach 5.0 tiebreak
3. Steve Banken-San Diego 5.0 tiebreak
4. Mike Glevy-San Diego 4.0
5. Lee Toresdahl-Huntington Beach 3.5
6. Jim Ferguson-Santa Rosa 2.0
EXPLORER DUKE
1. Rick Fignetti-Huntington Beach 10.0
2. Jim Ferguson-Santa Rosa 5.5
3. Bob Higgins-San Diego 2.7
4. Peter Townend-Huntington Beach 0.0
EXPLORER LONGBOARD
1. Mike Gillard-Imperial Beach 14.0
2. Christian Stutzman-Lake Forest 9.0
3. Austin Sonnier-San Diego 7.7
4. Christian Franzen-Rossmoor 4.5
5. Mike Watson-Huntington Beach 4.2
6. Nathan Thompson-Huntington Beach 4.0
THE SCOREBOARD
RESULTS
SOUTHWEST CONFERENCE EXPLORER EVENT #7
OCEANSIDE SOUTH JETTY

EXPLORER DIVISIONS
EXPLORER MENS
1. Christopher Murnane-Carlsbad 11.8
2. Brandon Manguso-Carlsbad 10.2
3. Taylor Mathiesen-Carlsbad 8.2
4. Jacob Szekely-La Jolla 7.8
5. Taylor McDole-Huntington Beach 7.3
6. Remy Jaboori-San Diego 5.7
EXPLORER JUNIORS
1. Colin Richardson-Encinitas 14.5
2. Christopher Murnane-Carlsbad 10.0
3. Taylor Mathiesen-Carlsbad 8.7
4. Jacob Szekely-La Jolla 8.2
5. Jay Christenson-Pacific Beach 8.0
6. Dylan Sonderegger-San Clemente 7.0
EXPLORER BOYS
1. Blake Dresner-Encinitas 11.5
2. Eric Weinhardt-Dana Point 9.0
3. Jade Morgan-Cardiff 8.0
4. Keone Betanzos-San Diego 7.3
5. Lucas Taub-Dana Point 5.4
6. Kellar Moore-Carlsbad 5.2
EXPLORER MENEHUENE
1. Tyler Gunter-Newport Beach 17.0
2. Nick Marshall-Encinitas 6.5
3. Dylan Hord-Huntington Beach 5.5
4. Crosby Colapinto-San Clemente 3.7
5. Brett Naudin-Encinitas 3.5
6. John West-Huntington Beach 3.3
EXPLORER SUPER GROMS
1. Nick Marshall-Encinitas 15.0
2. Dagan Stagg-Carlsbad 10.5
3. Crosby Colapinto-San Clemente 6.9
4. Kade Matson-San Clemente 6.5
5. Zach McCormick-Solana Beach 5.3
6. Ethan Mudge-Capo Beach 4.9
EXPLORER WOMENS
1. Kulia Doherty-Rancho Santa Fe 15.0
2. Frankie Harrer-Malibu 11.8
3. Avalon Johnson-Carlsbad 9.0
4. Kylie Loveland-Carlsbad 8.5
5. Tiare Thompson-La Jolla 5.5
6. Malia Osterkamp-San Clemente 5.1
EXPLORER GIRLS
1. Frankie Harrer-Malibu 12.0
2. Kylie Loveland-Carlsbad 11.5
3. Avalon Johnson-Carlsbad 6.5
4. Malia Osterkamp-San Clemente 5.0
5. Tiare Thompson-La Jolla 4.3
6. Jada Galland-Rancho Santa Fe 3.4
EXPLORER MASTERS
1. Rick Takahashi-San Diego 12.5
2. Eric Sorensen-Long Beach 11.7
3. Ed Custodio-San Diego 8.8
4. Bob Higgins-San Diego 6.0
5. Lee Toresdahl-Huntington Beach 3.0
EXPLORER SENIORS
1. Rick Takahashi-San Diego 16.0
2. Eric Sorensen-Long Beach 14.0
3. Ed Custodio-San Diego 7.8
4. Ed Santos-Oceanside 6.5
5. Biagio Mancini-Huntington Beach 4.8
6. Lee Toresdahl-Huntington Beach 4.4
EXPLORER SUPER SENIORS
1. Mike Gillard-Imperial Beach 11.0
2. Rick Fignetti-Huntington Beach 8.0
3. Mike Glevy-San Diego 5.0
4. Lee Toresdahl-Huntington Beach 4.3
5. Bob Higgins-San Diego 3.5
6. Steve Banken-San Diego 2.5
EXPLORER DUKE
1. Rick Fignetti-Huntington Beach 16.0
2. Bob Higgins-San Diego 6.5
3.5 Jim Ferguson-Santa Rosa 0.0
3.5 Peter Townend-Huntington Beach 0.0
EXPLORER LONGBOARD
1. Mike Gillard-Imperial Beach 12.5
2. Mike Watson-Huntington Beach 6.5
3. Chad Schweikart-Vista 4.4
4. Jake Lippincott-Riverside 4.2
5. Larry Schlick-Long Beach 0.0
6. Nathan Thompson-Huntington Beach 0.0