NSSA SOUTHWEST CONFERENCE
OPEN SEASON EVENT #6
HUNTINGTON BEACH PIER, CALIFORNIA
DECEMBER 3-4, 2011
CONDITIONS:  Chest to head high beach break nuggets. Perfectly shaped HB sandbar peaks with light offshore winds and glassy conditions all day, both days!
OUR MINI GROM SHREDDERS!
NSSA SCORES AGAIN IN SURF CITY!
(Huntington Beach, Ca – November 9, 2011) – The West Coast's top student surfers were treated to a gem of a weekend for stop #6 of the Southwest Conference Open Season. A moderately sized northwest swell was running along the Southern California coast bringing clean chest to head high peaky lined up rights and lefts on the southside of Huntington Beach Pier. Coupled with the light off-shore winds, high performance conditions were on offer all weekend in Surf City and the competitors capitalized. The Huntington Beach Pier Open is the sixth of ten events in the premier Open Season schedule. The Southwest Conference Open Season is regarded as the elite competition for west coast surfers. Divisions are offered in Men's, Juniors, Boys, Mini Groms, Womens, Girls and Longboard. The Open Season is restricted to student surfers only.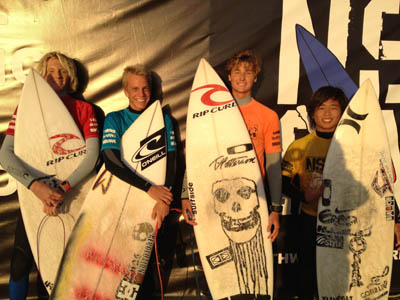 OPEN MENS FINAL FOUR!
l-r: Taylor Clark, Jake Kelley, Colin Moran, Hiroto Oohara
OPEN SEASON EVENT #6 STORYLINES
Another gigantic surfing performance was put forth by Hiroto Oohara as he maximized the good rippable 3-4 foot peaks. The 15-year-old from Chiba, Japan was on fire again marching to double wins for the second time this season in the premier Open Men's and Juniors divisions. Surfing with speed, power and flow, Oohara was unloading crisp turns in the pocket crushing the competition heat after heat. Overall he took seven heat victories. Taking second to Oohara in the Men's final was Jake Kelley who earned his best result of the season. Taylor Clark made his fourth final of the season which is tops of any Men's competitor. His third place finish will solidify his lead in the ratings with four events remaining on the 2011-12 schedule however the top five ranked surfers are all within striking distance of the conference championship. It's setting up to be an thrilling race for the title down the stretch.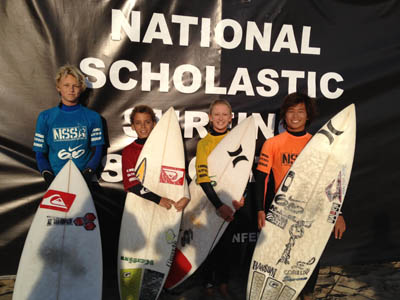 OPEN JUNIORS FINAL FOUR!
l-r: Thelen Worrell, Nolan Rapoza, Jake Marshall, Hiroto Oohara
Hiroto Oohara continues to set the tone at the contests stepping up his level and his success rate is proof. His double victory at this event includes a sensationally impressive third consecutive victory in the Juniors division. Jake Marshall took second followed by Thelen Worrell and Nolan Rapoza taking third and fourth respectively. Oohara will move into first in the ratings with Griffin Colapinto dropping to second.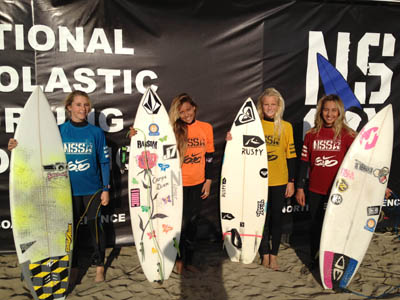 OPEN GIRLS FINAL FOUR!
l-r: Jada Galland, Tia Blanco, Kylie Loveland, Frankie Harrer
In the Womens, Kulia Doherty was tearing up southside's shreddable walls running up the scoreboard in the final. She took a convincing win with scores of 8.0 and 6.67 for her fourth victory in Open competition. Shelby Detmers was back in good form taking second followed by Tia Blanco and Kylie Loveland taking third and fourth respectively. Particularly impressive has been Blanco who has been a model of consistency this season going six for six in Open Womens finals appearances and has been the only women's competitor to achieve this. Doherty will move back into first in the ratings with Blanco right behind trailing by a mere 100 points. With four events remaining, this will be another exciting race to watch down the stretch. In the Southwest Open Girls division, Frankie Harrer continues to dominate the field clinching her fifth consecutive victory. Harrer held down the lead with two good scores of 6.5 and 5.17 and then put the hammer down on her last wave crushing an 8.83 scoring ride. Runner up was Tia Blanco followed by Kylie Loveland and Jada Galland. In addition both Blanco and Loveland took it up a notch making the Womens final. Harrer's victory puts her total at 21 with the magic number down to nine to tie and ten to break the current season wins record!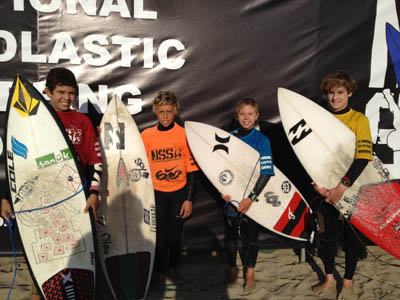 OPEN BOYS FINAL FOUR!
l-r: Cole Houshmand, Eithan Osborne, Nick Marshall, Ryland Rubens
In the Boys division, Cole Houshmand took his first win of the season. Houshmand, who won the Mini Grom division at the West Coast Championships in 2010, showed again he is in tune with HB's beachbreak peaks handily winning the final with solid scores of 7.17 and 6.17. Runner up Eithan Osborne kept his impressive finals streak alive making it six straight. Ryland Rubens took third place followed by Nick Marshall in fourth who has stepped it up in the division making four of six finals. Marshall took his third victory in the Mini Grom division propelling him to first in the ratings. Dagan Stagg took second followed by Crosby Colapinto in third and Zach McCormick in fourth. In the Longboard division, Huntington Beach's Tony Bartovich claimed his second win of the season.
Hiroto Oohara was named performer of the weekend scoring a $50.00 gift card to Huntington Surf and Sport!
The NSSA Southwest Conference is proud to have support from Nike 6.0, Huntington Surf and Sport, Java Point, Surfing Magazine, Sex Wax, Channel Islands, Vitaminwater, Sugar Shack and Laguna College of Art + Design.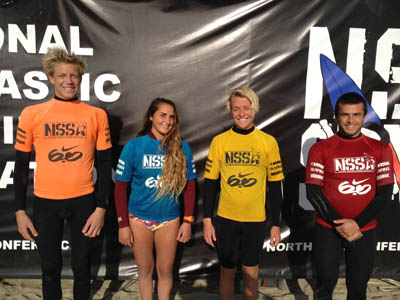 OPEN LONGBOARD FINAL FOUR!
l-r: Dane Petersen, Stephanie Schechter, Lucas Foster, Tony Bartovich
COMING UP IN CALI: The Northwest Conference will head north to Santa Cruz a doubleheader at Pleasure Point and the iconic Steamer Lane on December 10-11. The Southwest Conference goes
THE SCOREBOARD
RESULTS
SOUTHWEST CONFERENCE OPEN SEASON EVENT #6
HUNTINGTON BEACH PIER, CALIFORNIA

OPEN MENS
1. Hiroto Oohara-Chiba, Japan 13.10
2. Jake Kelley-Newbury Park 11.20
3. Taylor Clark-Encinitas 10.30
4. Colin Moran-Newport Beach 5.32
OPEN JUNIORS
1. Hiroto Oohara-Chiba, Japan 12.24
2. Jake Marshall-Encinitas 11.70
3. Thelen Worrell-Malibu 9.00
4. Nolan Rapoza-Long Beach 6.90
OPEN BOYS
1. Cole Houshmand-San Clemente 13.34
2. Eithan Osborne-Ventura 11.80
3. Ryland Rubens-Pacific Beach 9.54
4. Nick Marshall-Encinitas 9.24
OPEN MINI GROMS
1. Nick Marshall-Encinitas 8.40
2. Dagan Stagg-Carlsbad 7.57
3. Crosby Colapinto-San Clemente 6.20
4. Zach McCormick-Solana Beach 6.03
OPEN WOMENS
1. Kulia Doherty-Rancho Santa Fe 14.67
2. Shelby Detmers-Newport Beach 10.60
3. Tia Blanco-San Clemente 9.80
4. Kylie Loveland-Carlsbad 8.83
OPEN GIRLS
1. Frankie Harrer-Malibu 15.33
2. Tia Blanco-San Clemente 10.00
3. Kylie Loveland-Carlsbad 9.00
4. Jada Galland-Rancho Santa Fe 4.17
OPEN LONGBOARD
1. Tony Bartovich-Huntington Beach 10.33
2. Lucas Foster-Carlsbad 10.04
3. Dane Petersen-Trabuco Canyon 8.77
4. Stephanie Schechter-San Diego 4.34
PERFORMER OF THE EVENT
Hiroto Oohara